I crossed the 100 mark today! I have used 101 cloth diapers on Ladybug so far (
I know this because I keep a spreadsheet of our savings-I

know

I am a dork
)!!! We are still loving it and have no plans of going back to disposables anytime!!!
In my journey with this I have come across a few wonderful blogs all devoted to cloth diapering!! Here's the great blogs I have found so far, and learned a lot from...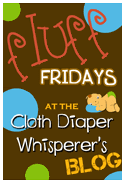 All About Cloth Diapers
...
Cloth Diapers
(the creators of bumGenius)
Cloth Diaper Blog
There was also one more I found that I really liked and now I can't find it...ahh, I can't believe I didn't save it in my Feedly in the right place, and I can't even remember when I was there, but I will add it if I find it!

I never thought I would even like cloth diapering, let alone write posts about it, and NOT mind washing them at ALL. It didn't even bother me when Ladybug had her biggest poop yet and we had a bit of a mess (NO leaking, but still a mess as she stuck her foot in it and got it on her dress...). Now I am even hoping to get a few different brands to try! We'll see...